Details
Major Nutrients/Sachet:
1,000 mg Vitamin C (as sodium ascorbate)
1,000 mg Phospholipids (from soy lecithin)
Sachets per Carton: 30 Storage Instructions: Store in a cool, dry place. Do not freeze or place the product in direct sunlight for extended periods of time.
If you open an individual sachet and do not wish to consume all of the product, reseal the open sachet in an airtight bag or plastic wrap and refrigerate until you're ready to take it, or up to 24 hours.

Shelf Life: 18 months from the date of manufacture. The manufacture date and the expiration date is stamped on the bottom of each carton. The expiration date is also imprinted along the edge of each sachet as EXP0614. This means: Expires: June 2014.
Special Notes: Vitamin C in any form can lessen the blood-thinning effects of Coumadin or Warfarin, resulting in a less prolonged prothrombin time. Altrient® urges anybody on either of these medications to supplement vitamin C and any other antioxidants under the guidance of their physicians only, so that the desired prolongation of prothrombin time can be achieved. Generally, most individuals on such medications can successfully take desirable amounts of vitamin C, but the amount of their Coumadin or Warfarin typically needs to be increased slightly, with initially more frequent checking of the prothrombin time by their physicians to assure the desirable degree of anticoagulation is achieved and maintained.
Dosage and Use: As a food supplement, take one sachet 1-2 times per day. For best results, snip or tear the notched end off the sachet, squeeze into 30-60ml of filtered or spring water, or your favourite cool beverage, then swirl and drink on an empty stomach, at least 15 minutes before eating. The food supplement will NOT dissolve in liquid. We recommend you swallow the product in one gulp. We do not recommend mixing the product with a hot beverage or with any high-speed blenders or food processors.
Squeeze the contents of one sachet into 30-60ml of filtered or spring water, or your favourite cool beverage. Then swirl and drink. The food supplement will NOT dissolve in liquid and has no artificial colours or flavours. We recommend you swallow the product in one gulp.
Within minutes millions of liposomes loaded with vitamin C will move into your bloodstream and then into your cells. Once there, the phospholipids and vitamin C will be unleashed to perform their powerful work
Recent clinical trials by world-renowned Vitamin C expert and pharmacologist, Steve Hickey, PhD, show that Lypo-Spheric™ Vitamin C is able to produce serum levels of Vitamin C nearly double those thought theoretically possible with any oral form of Vitamin C. Squeeze the contents of one packet into your favorite juice or other cool beverage. The gelatin-like liposomes disperse with a stir and add little or no taste to your drink. It's easy to swallow and soon millions of "Smart" Lyposomal Nano-Spheres™ loaded with liquid Vitamin C race to your liver. Once there, the "essential" phospholipids and the Vitamin C will be unleashed to perform their powerful health-promoting, age-reversing work!* Each 0.3 oz. packet of Lypo-Spheric™ Vitamin C contains 1,000 mg of Vitamin C and 1,000 mg of "essential" phospholipids. It's the most bio-available, anti-aging, health-promoting, easy-to-swallow Vitamins. The phospholipids encapsulating the Vitamin C range in color from light orange to dark brown. Dosage and Use As a dietary supplement take one to two packets per day for heart, liver, kidney, circulatory, glandular, and cellular health. For best results, snip or tear the notched end off the packet, squeeze into one or more ounces of your favorite cool beverage, drink on an empty stomach, and wait at least 15 minutes before eating. We do not recommend mixing the product with a hot beverage or with any high-speed blenders or food processors. Storage Instructions Store in a cool, dry place. Do not freeze or place the product in direct sunlight for extended periods of time. Shelf Life When stored properly, the Lypo-Spheric™ Vitamin C will stay 100% effective for a minimum of 12 months from the time of purchase. The expiration date is on the bottom of each carton and on each packet as "XMMYR". Note: It is not recommended to take any form of vitamin C with prescription Coumadin or Warfarin.
So what are liposomes, exactly?
Representation of a phospholipid molecule showing phosphate head (orange), the glycerol sholders (blue) and the fatty acid tails (silver)
Liposomes are bilayer (double-layer), liquid-filled bubbles made from phospholipids. Over 50 years ago, researchers discovered that these spheres could be filled with therapeutic agents and used to protect and deliver these agents into the body and even into specific cells of the body.

The bilayer structure of liposomes is nearly identical to the bilayer construction of the cell membranes that surround each of the cells in the human body. This occurs because of the unique composition of phospholipids. The phosphate (source of "phospho" in phospholipid) head of phospholipids is hydrophilic — it loves water — whereas the fatty-acid tails (lipids) are hydrophobic — they hate water.


Liposome containing vitamin C. Currently liposome-encapsulation is the best oral way to deliver vitamin C known to man.
When phospholipids find themselves in a water-based solution, the hydrophobic tails quickly move to distance themselves from the liquid just like oil separates from vinegar. So, as all the tails turn inward and all the heads turn toward the liquid, they form a double-layered membrane.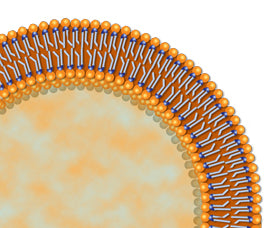 This diagram of a liposome cutaway shows how the tails of phospholipids turn inward to form a bilayer membrane, and encapsulate a therapeutic agent.
Although research has not clearly shown how the therapeutic agents in a liposome are actually released, there are a couple of theories. One theory suggests that the phospholipids are processed in the liver as fats and that this process releases the vitamin C. Another theory proposes that cells all over the body, hungry for phospholipid materials to repair cell membranes and other cellular structures, "steal" these materials from the liposome allowing their contents to leak out.

Quite possibly both processes occur. In any case, the therapeutic value and greatly increased delivery of liposome-encapsulated drugs and nutrients has been scientifically confirmed countless times. At present, liposomes are the most effective oral way to deliver nutrients.
Phospholipids are the primary building blocks of cellular membranes. These membranes are the "containers" that hold the living matter within each cell. They also give definition, shape, and protection to many of the substructures (organelles within the cell like the nucleus and mitochondria) within our cells.

In addition to functioning as a skin for each cell — keeping the insides in and the outsides out — phospholipid membranes provide protection from chemicals and pathogens that can derail and/or destroy the necessary life functions that take place within each cell. While performing this function, phospholipid membranes are subject to constant attack from free radicals (oxidants), pathogens, and toxins.

In order to repair the structural damage caused by the continual barrage of toxic substances and pathogens, your body requires a constant supply of phospholipids. The body can synthesize some phospholipid compounds but others must be supplied by the diet. Phospholipids that can only be obtained through dietary intake are called "essential phospholipids."


Anatomy of a phosphatidylcholine molecule. All phospholipids have a phosphate group and fatty acid chains connected by a glycerol group. Phosphatidylcholine, a class of essential phospholipids, has two distinguishing characteristics: 1) a choline head and 2) one of the fatty acid chains is an omega-6 fatty acid. (KEY — Gray: carbon atoms; Teal: hydrogen atoms; Blue: oxygen atoms; Violet: phosphorus atom; Gold: nitrogen atom.)
At the basic level, phospholipids are a phosphate group (phospho) attached to fatty acids (lipids) by means of a glycerol group.

Unlike phosphates, which are attracted to water (hydrophilic), fatty acids are repelled by water (hydrophobic). It is this very love/hate relationship with water that allows phospholipids to form cellular membranes — and liposomes as well.

As phospholipids are exposed to water-based solutions, they automatically align themselves in a double-layer (bilayer) configuration - phosphates toward the water and fatty acids away from the water.

One of the most important and prominent phospholipids in cell membranes is called phosphatidylcholine (PC) [pronounced FOSS-fah-tide-al-KOH-lean]. At birth up to 90% of cellular membranes are made up of PC. As humans age, the percentage of PC in their cellular membranes can decrease to about 10%. This fact leads many to recommend consistent supplementation with this essential phospholipid.

Intact PC — as well as its essential fatty acid and choline components — is required for many vital functions in the cardiovascular, reproductive, immune, and nervous systems. PC and its components are needed for the synthesis of important messenger molecules called prostaglandins which, among other functions, regulate the contraction and relaxation of muscles. Choline is required for the synthesis of intracellular messenger molecules including the neurotransmitters that allow nerve cells to communicate with muscles and each other, and are essential for proper heart and brain function.

The liposomes used for Lypo-Spheric™ supplements made from essential phospholipids that include a high percentage of Phosphatidylcholine. These liposomes not only provide optimum protection and superior transport for the Lypo-Spheric™ nutrients, they also help satisfy the body's need for PC, omega-6 fatty acids, and choline.
"That little swig of juice and Altrient C are probably the most important items I consume each day. I used Altrient ME every day to enjoy the long lasting effects of the natural and powerful energy boost that Altrient ME can make you feel. It doesn't create a feeling of shakiness or jitters at all either, just a very natural and long lasting amount of energy" – Rebecca at Love2EncourageYou
"Ever since I started using Altrient as a part of my daily supplements I have seen an increase in my energy throughout the day and during my workouts. The Altrient products give me a "kick start" to my day, I wouldnt train without them" – Tim Donegan
"I have been taking Altrient C & ME since just before the 2012 Regionals as well as during the Games and have seen a huge impact on my recovery and overall health. I am always looking for the best product out there that will assist me with improved health & performance and I feel that Altrient C & ME are doing that for me."
- Jeremy Kinnick
"I just wanted to say thanks for making an awesome product. I have been taking about two packs a day (once in the morning and once at night) for a few weeks and my muscle recovery feels so much faster. My body is normally rejecting me in the fall from high volume of cross country season on top of high volume in crossfit and strength training. I can totally see why Cheryl Brost uses Altrient. Keep up the awesome work and product!"
- Matt Sagers
"I am currently under going Chemo treatments for cancer. I have no immune system. Before taking Altrient C and ME, I hardly had enough energy to walk from my living room to my kitchen. After only one week on the Altrient C and ME, I noticed I had 50% more energy than before. It's been like a miracle and as time goes on, I feel my strength returning. Altrient C and Me are definitely my type of supplement. Try it, you'll definitely feel the difference." – Lynn Copriviza
Studies and Resources
References/Citations/Summaries
Gropper SS, Smith JL, Groff JL, (2009), Advanced Nutrition and Human Metabolism, West Publishing Co. p 313.
Vitamin C [non-liposomal] bioavailability decreases with dose size
As dose size increases, bioavailabiity decreases dramatically. The authors express this finding by stating that 98% of a 20 mg oral dose of [non-liposome-encapsulated] vitamin C is bioavailable (enters the bloodstream) whereas only 16% of a 12,000 mg dose does so.
Gerster H, (1987), Human vitamin C requirements, Z Ernahrungswiss. Jun;26(2):125-37.
Bioavailability of [non-liposome-encapsulated] vitamin C
Based on previous recommended daily allowance (RDA) studies by the National Institutes of Health, author suggests that a 200 mg daily intake of vitamin C is sufficient to provide tissue saturation. By implication, any additional vitamin C would not be used or bioavailable. He does also suggest that smokers and those in disease states may have a higher requirement for vitamin C. [NOTE: Hickey & Roberts (2004) debunk the flawed nature of these NIH studies]
Hickey S., Roberts H, Miller N, (2008), "Pharmacokinetics of oral vitamin C" Journal of Nutritional & Environmental Medicine July 31.
Liposome-encapsulated vitamin C dramatically increases blood levels
Authors found that a liposome-encapsulated vitamin C nearly doubled bioavailability over that thought possible from studies published by the National Institutes of Health.
Hickey S, Roberts H, (2004), Ascorbate: The Science of Vitamin C, 2004.
Ascorbate: The Science of Vitamin C
This book presents a new model, describing the action of vitamin C in health. It demonstrates conclusively that the establishment has misinterpreted the evidence. The dynamic flow model explains the current results and points the way for future experiments. This book is a must for people who want to understand the scientific evidence and support for high-dose vitamin C.
Kelly C, Jefferies C, Cryan SA, (2011), "Targeted liposomal drug delivery to monocytes and macrophages," J Drug Deliv.
Liposomes used to deliver drugs to specifically targeted cells
Liposomes can be used to effectively deliver therapeutic agents particular cell types (mononuclear phagocytic system, particularly macrophages). These cells are of particular importance in the immune system.
Levine M, Conry-Cantilena C, Wang Y, Welch RW, Washko PW, Dhariwal KR, Park JB, Lazarev A, Graumlich JF, King J, Cantilena LR. (1996), "Vitamin C pharmacokinetics in healthy volunteers: evidence for a recommended dietary allowance," Proc Natl Acad Sci U S A. 1996 Apr 16;93(8):3704-9..
Bioavailability of (non-liposomal) vitamin C decreases rapidly with dose size
Authors report very rapid decline in bioavailability [of non-liposome-encapsulated vitamin C] with dose size. The "steep portion of the curve" starts between 30 mg and 100 mg of daily dose. Based on their findings, they suggest that "vitamin C daily doses above 400 mg have no evident value." This conclusion is based on the faulty presupposition that the appearance of vitamin C in the urine indicates all bodily tissues are saturated and the body requires no additional vitamin C. This assumption is clearly refuted by Hickey, et al. in his bookAscorbate: The Science of Vitamin C referenced above.
Mitsopoulos P, Suntres ZE, (2011), "Protective Effects of Liposomal N-Acetylcysteine against Paraquat-Induced Cytotoxicity and Gene Expression," J Toxicol.
Liposomal encapsulation improves delivery of therapeutic agent
N-acetylcysteine (NAC) was encapsulated in liposomes and administered as a trea™ent for paraquat poisoning. Pretrea™ent with this liposomal NAC was found to be more effective than conventional drugs in reducing the effects of paraquat poisoning.
Parmentier J, Thewes B, Gropp F, Fricker G, (2011), "Oral peptide delivery by tetraether lipid liposomes," Int J Pharm. Jun 2.
Liposome encapsulation improves peptide bioavailability
Liposomes were used to deliver peptides agents which normally break down in the stomach. Bioavailability in some tests improved by 460%.
Additional Information
| | |
| --- | --- |
| Manufacture | Livonlabs |
| Tax Class | Momspliktige varer 15% |
This is the replacement of Upsell Products