Details
Frequently Asked Questions
Do I need to replace all the pipes in my home or business with Vortex Water Revitalizers?
No. The installation of one Vortex Water Revitalizer on your main water line as it first enters your home or business, before it splits into hot and cold, will deliver Revitalized Water throughout your entire home or business.
Where are the Vortex Water Revitalizers manufactured?
Printer-friendly versionPrinter-friendly version
The Vortex Water Revitalizers are manufactured in British Columbia, Canada
What does the Vortex Water Revitalizer do for my hair and skin?
The Vortex Water Revitalizer will do wonders for your hair and skin. Many customers with skin irritations, redness, dryness, itching or blotchiness have noted total transformations to their skin as a result of bathing in Revitalized Water. Hair will be better hydrated and left healthier, softer and shinier. Revitalized Water has also been noted eliminate dandruff.
Does drinking Revitalized Water improve my hydration?
Yes. Your body absorbs Revitalized Water instantly; you will never experience a heavy, sloshing feeling in your stomach from drinking Revitalized Water. As a result of the instant absorption and ability to drink larger quantities of water, you will experience optimal hydration.
Does Revitalized Water affect my plants and garden?
Yes. The Vortex Water Revitalizer has done wonders to many customers' gardens and houseplants and has even been used in agricultural applications. Revitalized Water will produce healthier, better quality plants, flowers, fruit, and vegetables. Click here to learn more about the Vortex Water Revitalizer and Gardening.
Does the Vortex Water Revitalizer affect the pH of water?
Yes. The Vortex Water Revitalizer restores the natural pH balance to pH imbalanced water, whether it is too alkaline or too acidic. The pH balance will be brought to that of natural spring water, usually falling between 6.8 and 7.2 pH.
Does the Vortex Water Revitalizer treat bacteria?
Yes. In lab tests we have seen a total elimination of both coliform bacteria and E.Coli bacteria. The Vortex Water Revitalizer creates an inhospitable living environment for anaerobic (bad) bacteria, like E.Coli.
Do I need to purchase any replacement parts or filters? Is there any maintenance?
No. The Vortex Water Revitalizer requires only a one time installation and there are no replacement parts or further maintenance needed.
Should I install the Vortex Water Revitalizer before or after my existing water treatment system?
The Vortex Water Revitalizer should ALWAYS be the last mode of water treatment in order to experience all of the benefits it offers, so it should always be installed or used AFTER your existing water treatment system if possible. If you have an under or over the counter water treatment system you can install a Vortex Water Revitalizer for Filters after it. You can also install a Whole House Vortex Water Revitalizer to treat the water throughout your entire home and benefit the environment, in addition to the Vortex Water Revitalizer for Filters.
Does the Vortex Water Revitalizer come with a Warranty?
Yes. All the products offered by World Living Water Systems Ltd. come with a 10-Year Limited Warranty, when purchased.
How long does the Vortex Water Revitalizer last?
The Kitchen Vortex Water Revitalizer and the Shower of Life Vortex Water Revitalizer will last beyond a lifetime. The only parts that may need replacement after 10 years are the rubber washers and the rubber rings inside the fittings. The copper Whole House models will last for at least 40 years, or the same lifetime as any other copper plumbing pipe. The stainless steel Whole House models should last for more than 100 years.
What is the difference between other water treatment systems and the Vortex Water Revitalizer?
When it comes to other water treatment systems like filters, reverse osmosis systems, and distillers, they clean and purify water of toxins and impurities, but they put water through unnatural processes. These unnatural processes usually strip the water of its natural structure, and sometimes while removing bad content from the water they also remove good content (reverse osmosis systems usually require you to add trace minerals to your water). Water is often times left tasting "flat" and lacking in vitality. The Vortex Water Revitalizer puts water through its natural flow dynamic, simulating the natural movement of water in nature. This restores the natural health, structure and vitality to your tap water, even after it has been processes by other water treatment systems, and also treats many common water problems faced today. The Vortex Water Revitalizer also contributes to a better, healthier environment.
Do I need to use a filter with the Vortex Water Revitalizer?
A filter or other water treatment system will only be necessary when there are severe chemicals and pollutants present in the water, and in these cases it is almost always necessary to use multiple water treatment systems. It is important to know what is in your water; you can learn this by taking a sample of your water to a local water testing facility, these tests are usually quite affordable and very informative. If there is sediment in your water, you will need to use a sediment filter to pre-treat the water.
Does the Vortex Water Revitalizer solve hard water problems?
Yes! One of the main benefits to the Vortex Water Revitalizer is its treatment of hard water. You will instantly see a complete transformation in the feel of your water. Hard water is the result of high mineral content in your water, so along with the softening of your water you will see a reduction or total elimination of mineral build-up and scale deposits. The Kitchen Vortex Water Revitalizer, Shower of Life Vortex Water Revitalizer and the Vortex Water Revitalizers for Filters are all very easy to install, and do not require a professional.
Does the Vortex Water Revitalizer remove chlorine from the water?
Yes. When water passes through the double spiral flow form inside the Vortex Water Revitalizer it is put through a vortexing action, which causes implosion in the water. This act of implosion causes the clusters of water molecules, which make up the structure of water, to disperse into micro clusters, or smaller clusters of water molecules. During this process heavy gases like chlorine are separated from the water. When water is released from your tap the chlorine evaporates from the water, leaving your water free or extremely reduced of chlorine. The smell and taste of chlorine will be eliminated or dramatically reduced, along with its harmful effects. If extremely high levels of chlorine are present in your city water you may need to let the water sit in an open container to allow for all the chlorine to evaporate fully. In most cases this is not necessary.
Kirlian Photography
Kirlian Photography is a type of photogram created by high voltage, sometimes referred to as "electrophotography". An object is placed on a photographic plate, which is connected to a source of voltage. This technology allows an object's energy field to be visually captured. You can think of this as a bio electrical/magnetic field. Either way it is an expression of how well the universal life forming energetic process is present and able to perform its task.
The following images are of two water droplets taken from the same tap using Kirlian Photography. The image shown on the left is of a water droplet taken from regular untreated tap water prior to installing the Vortex Water Revitalizer. The image shown on the right is of a water droplet taken from the same tap water, after it has been treated with the Vortex Water Revitalizer.
"Dual-Differential Kirlian" analysis. This allows a single energy pulse to get distributed to two subjects for the same exact energy setting and duration, assuring a fair test of both. This allows a perfect comparison of a "charged" and "uncharged" water for instance to be done, again on a single shot. This assures the people viewing the comparison that it is correct to say that one has "more" or less energy than the other".
| | |
| --- | --- |
| Before the Vortex Water Revitalizer | After the Vortex Water Revitalizer |
One can clearly see the difference in the energy emitted from these two water droplets. The Revitalized Water droplet is letting off almost triple the energy field of the untreated water droplet.
How do you think drinking water from the Vortex Water Revitalizer would assist the learning process in any kind of educational situation i. e. universities?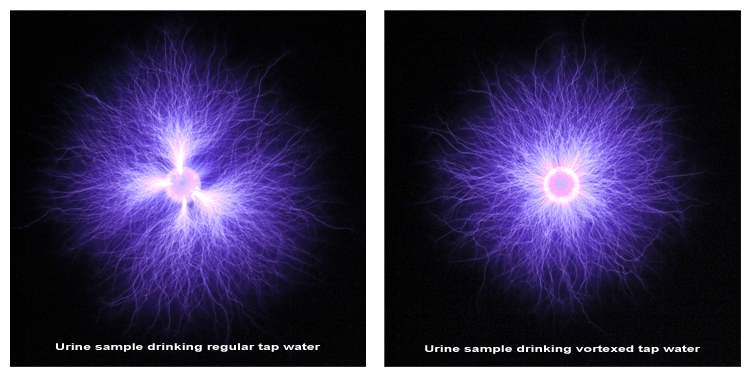 Here is a rare piece of research into the energetic effects upon the body's internal processes when drinking water treated by the Vortex Water Revitalizer. The increase in energy in the water from the Vortex Water Revitalize, not only benefits you and your body. You can now share these benefits with the bigger environment affected by your more or less inefficient local sewage and waste water treatment plant. Simply by installing any of the Vortex Water Revitalizers you can have a profoundly positive way of providing environmental benefits to our fragile world. The Vortex Water Revitalizer is one of those very rare technologies, which is 100% beneficial both to the user (you) and our natural environment.
Additional Information
| | |
| --- | --- |
| manufacturer | No |
| Tax Class | Momspliktige varer 25% |
This is the replacement of Upsell Products